Rioting in South Africa has claimed 337 lives, with more than 3000 people arrested in widespread civil unrests. The mass looting and violence were began a day after the imprisonment of former president Jacob Zuma on 08 July, on charges of contempt of court. The chaos escalated into the worst unrest since the end of apartheid, with president Cyril Ramaphosa labelling it an attempted insurrection.
"The South African police has revised the total number of deaths in Gauteng province to 79 and KwaZulu-Natal to 258 as related to the unrest," said Khumbudzo Ntshavheni, a minister in the president's office.
Gauteng and KwaZulu-Natal – Zuma's home province, are the country's two most populous provinces, which together account for half of South Africa's economic output.
Event though the situation is a lot calmer,  six people – including a radio DJ, are under arrest on charges of incitement to commit public violence. Thousands more are in prison for looting and arson.
Exact Damage Still Unclear
The authorities are still trying to correctly asses the scale of the destruction and loss of life, largely fuelled by poverty.
And while the government is mostly managing to keep the violence under control, the economic damage definitely exceeds USD 1.36 billion in KwaZulu-Natal alone. Severe damage in that province has claimed:
161 shopping malls,
11 warehouses, and,
8 factories.
The extent of the damage in Gauteng remains unclear. However, South Africa was already dealing with rampant poverty and the COVID-19 pandemic only made things worse for the country's poorest. In the weeks following the riots, shelves in stores remain empty and people hunger.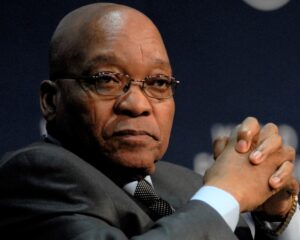 Keep in mind that the rioting in South Africa began as demonstrations over the arrest of the country's former president Jacob Zuma. He is currently facing corruption charges in relation to a 1990s arms deal and an inquiry into corruption during his nine-year mandate that ended in 2018.
According to estimates, his reign cost South Africa approximately USD 35 billion – which represents a tenth of the country's overall GDP or more. During his presidency, somewhere around 3 million people fell below the poverty line. Correspondingly, hunger and malnourishment rates also doubled, impacting negatively especially the youngest – 25% percent of South African children are stunted as a consequence.
It is important not to forget that South Africa was already hit hard economically by several COVID Lock-downs leading to unemployment rates skyrocketing. During the riots, the Province of KwaZulu-Natal was hit particularly hard. As a result of the large scale looting and destruction, the vast majority of food storages and warehouses in KZN have been completely evacuated to Gauteng. Meaning that KwaZulu-Natal will not only have do recover from the wide-spread destruction and food shortages, but it will also need to deal with the consequences of unemployment and the effect it will have on crime.

– Daniel Weil, Chief Executive Officer, SCS
South Africa Unveils Post-Riot Relief
President Ramaphosa unveiled a new relief package to help businesses and individuals recover from a week of deadly riots and coronavirus curbs, as he eases lockdown restrictions amid slowing infections. These measures include:
reinstating a monthly welfare grant of 350 rand for the poor until the end of March,
400 million-rand state contribution to a humanitarian relief fund, and,
support for uninsured businesses.
South Africa also plans on expanding employment tax incentives and giving businesses an additional 3 months to pay taxes collected from their workers. Also, the moratorium on leisure travel in some areas was revoked, but there will be a curfew from 22 to 04h.
Who is Behind the Unrests?
Was the rioting in South Africa just a spontaneous triggering of anger brought about by the jailing of former President Jacob Zuma? Analysts debate that there was perhaps a, so-called, third force at play.
Also, South African government altered its rhetoric concerning these events significantly since the unrest began. While they were reluctant to go into detail or place blame in the beginning, now we hear talks about "economic sabotage" – prompting some commentators to whisper "insurrection" or "attempted coup".
President Ramaphosa made his position rather clear stating that the violence was pre-planned – but hasn't revealed who he thinks the suspects are.