Every year, numerous music events and conferences take place around the world, with many high-profile individuals in attendance. However, many event organizers fail to institute proper medical and safety measures before the happening. In this article, we discuss the importance of event security services. Also, we present tips on choosing the right one for your needs as an EP company or contractor — as well as different measures you can take. 
Defining Event Security Services 
Event security services are integral to ensuring any event's safety and security. In a nutshell, they include:
Providing a physical, trained presence at the venue that can deter potential threats, 

Monitoring access points and verifying guest identifications, 

Requesting documentation from vendors and other visitors, 

Managing crowd control to ensure smooth transit of visitors in large public spaces or during peak hours, 

Performing check-in and check-out processes associated with events, 

Implementing safety protocols during emergencies such as fires or natural disasters, and

Providing surveillance systems or CCTV coverage for additional visual support.
This service is essential to any event, allowing organizers to assuage guests' security concerns.
Event security has become more prominent now with the endemic of COVID-19. Performers, venues, and organizations have been trying to recuperate financially for the loses incurred over the past two years in conjunction with restrictions set, (i.e. – social distancing).

With this, events will continually try to surpass each other, in turn creating more safety and security risks. Many event goers attend venues for entertainment and not to assess the security framework….which is where we as security practitioners come in.

Security professionals, managers, supervisors, and team leaders must approach event security through a strategic scope, ensuring quality and not quantity. For example, on February 2, 2014, Super Bowl XLVIII took place at MetLife Stadium in New Jersey, with close to 83,000 attendees. Contract security officers were in a high demand to assist with searches and access control, while working concurrent with internal security teams and law enforcement.

Once the announcement was made regarding the venue for the Super Bowl, surrounding contract security organizations were contacted for assistance in recruiting. Granted, most of these men and women working as contract security officers were well-rounded professionals; however, many recruiters would fall into the trap of hiring a pulse, (i.e. – quantity), rather then an experience security officer, (quality).

Regardless of the assignment or venue, it is imperative to produce security in quality over quantity.
Benefits of Hiring an Event Security Service Provider 
Having an event security service provider on-site is beneficial in several ways. First, a professional team of guards and personnel can spot potential threats — individuals working together to harm guests or fans that want to intrude into the building — and take appropriate measures to evacuate the protectee or remove the attackers.
Additionally, trained protection staff have the expertise to handle emergencies during high-level events. Mostly, they are present as a deterrent, discouraging potential intruders before they strike. Alternatively, if they find someone suspicious, they could ask the person in question to step aside and perform a security check. 
Physical Security Measures 
Physical security measures are the most critical part of any event security plan. These measures can include but are not limited to: 
The presence of well-trained guards who can detect and intervene against potential threats, 

Secured entry points with metal detectors or other similar equipment, 

CCTV surveillance systems for additional visibility, 

Access control measures that limit access to certain areas or personnel, and

Emergency exits in case an evacuation needs to be triggered quickly. 
These tools help ensure a safe environment for the guests and provide essential data that can be used if the authorities need to identify the intruder and prosecute him later on.
Crowd Control Strategies in Event Security Services 
Crowd control is an important aspect of any event. It involves preventing overcrowding in certain areas. Also, it helps with efficiently managing the flow of people to maintain safety throughout the event. 
As a remedy, professional security teams are equipped with strategies that can help manage large crowds, such as: 
Creating marked queues for entry points, 

Using trained guards to direct guests to specific locations, 

Establishing a strict policy on overcrowded spaces, and

Informing visitors about safety regulations or instructions via announcements or signs. 
The event organizer should predetermine the capacity limit for any area to avoid overcrowding. However, this can lead to a security disaster. While cramming as many guests into one space may be tempting, it is important to remember that such actions can put everyone in danger.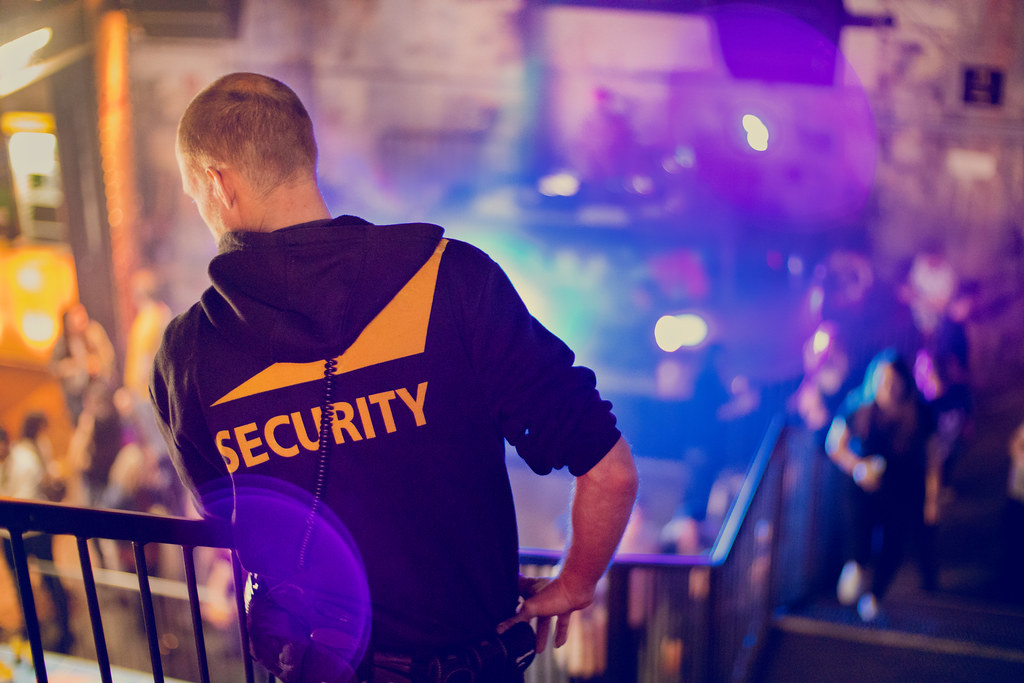 Surveillance and Monitoring Solutions 
Surveillance and monitoring tools are also essential for event security services. These include CCTV cameras, access control devices, and video analytics software. In this sense, security staff can monitor the activities occurring at the venue in real-time using these solutions. This allows them to take quick action if needed. 
Additionally, surveillance systems provide detailed records of all events happening during the entire duration of the event. This can be helpful for post-event inspections or investigations. Also, reliable and secure Wi-Fi and Bluetooth connectivity can help ensure smooth operations and communications.  
If the security team uses these options, a good connection means they can react quickly and eliminate threat actors. 
Similarly, you can implement bug sweeps if the event is a conference where confidential information is disseminated among guests. 
To help with that, a professional security team with IT support can manage these systems and ensure safety.
Access Management Systems 
Access management systems are essential for controlling who enters and exits the venue. For example, such measures can limit access to sensitive areas or personnel. Likewise, they can track the movements of guests within the event space. In addition, important guests can have unique access cards or badges, while you can deny entry to unauthorized personnel.
Every security team has to learn about ubiquitous access control systems. Then, the protective staff needs to configure measures according to the needs of the organizers before the event and monitor them while it is ongoing. This will ensure that only those with proper authorization can enter and exit the venue. 
Why Are Events Sometimes a Target for Intruders?
High-level events, like board meetings, conferences, and music concerts, can attract hostile individuals or groups seeking to disrupt or vandalize them. The presence of notable guests, valuable assets, and large groups of people can sometimes make events a prime target for malicious actors. In addition, they might want to embarrass the executives by making them look bad, embarrassing them, or stealing information. 
Also, the lack of proper security measures can make events even more vulnerable. It's why it is essential to have an effective event security services plan in place, one that addresses all likely threats and prepares the team for any eventuality. 
Final Thoughts 
Event security services are essential for ensuring the safety of guests and organizers of high-profile and even low-profile events. They involve a range of solutions, such as:
Crowd control,  

Surveillance and monitoring, and  

Access management.
In the case of star-crazed fans waiting outside the premises or being a target of an attacker's plan, event security service act as a deterrent. Sometimes, with a visual obstacle, the attacker will think twice before striking, and fans will keep their distance, creating a safe situation for protectees, whether they are
Entertainers,

CEOs, or

Other individuals.
So, if your client needs assistance developing an event security services plan, consider working with a professional event security provider to ensure everyone's safety and peace of mind.