A young Japanese man dressed as The Joker executed a knife attack on a commuter train before starting a fire. The Tokyo knife attack occurred at 8 pm Sunday evening near Kokuryo Station. The latest reports state at least 17 people were injured.    
Police and witness accounts assert that people jumped from the train windows, panicked and scrambling to get away from the assailant masked in a green shirt and bright purple suit. Witnesses also remember the man walking on the carriage and waving a long knife. 
What many would assume to be a cruel Halloween stunt is a real tragedy. Especially as people streamed into the city center to celebrate the holiday, completely unaware of what's to come. 
This event shows that one doesn't need automatic weapons to inflict damage and that a person can use everyday items to cause panic and harm, especially in a crowded and confined space. Trains and subways rarely have law enforcement patrolling inside carriages or on station platforms. However, bullet trains have in recent years hired security guards to patrol inside carriages – all remain unarmed and mainly serve to 'reassure' passengers after similar incidents had erupted in the past few years. 

Folks should not take safety for granted even in relatively 'safe' Japan and especially with elevated pandemic-induced stress levels. This reminds us to always be aware of one's surroundings, even in typically 'safe' and familiar environments. 

Many perpetrators exhibit signs just prior to an attack; aggressive behavior, nervousness, etc. – vibes that differ from everyone around them. Having a mental plan in case things escalate unexpectedly could help. It only takes a few seconds for things to go sideways. Where are the fire extinguishers (which can also be used for offense/defense) and emergency call buttons to notify the train driver? Can you use your bag, carry items, or martial arts/self-defense training to do something?

– Kenji Okamoto, Vector Risk Management
Murder and the Death Penalty
Presumably, as seen on video footage following the Tokyo knife attack, the 24-year-old man sits haphazardly on the train smoking a cigarette. In addition, the assailant mentioned to police his desire to kill people and be sentenced to death. 
According to Japan's national NHK broadcaster, the suspected attacker dressed as The Joker poured lighter fluid from a bottle and set it alight. Passenger footage shows an eruption of flames quickly filling the carriage with smoke. In the background, we hear loud bangs and screaming.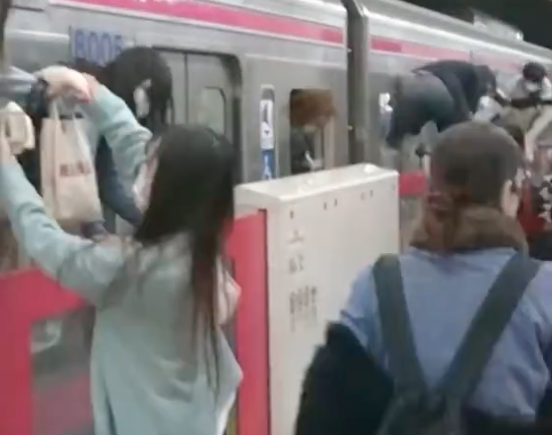 This followed his rampage of stabbing commuters. At least one passenger – a man in his 70s is in critical condition after being stabbed in the chest. A further three people sustained serious injuries.   
At this point, the train made an emergency stop near the western Tokyo city of Chofu to allow passengers to evacuate to the platform. News footage shows emergency workers helping to rescue individuals. 
Suspected Attacker Arrested
Showrooms report the police arrested the attacker, who they identified as Kyota Hatori (24), on the spot Sunday night. Furthermore, the local police state the perpetrator didn't resist arrest and dropped his knife when told to do so.   
Surprisingly, this is the second knife attack to happen in Tokyo in the span of only three months. In August, right before the closing ceremony of the Tokyo Olympics, a 36-year-old man stabbed 10 passengers. As the train doors closed, the commuters had no idea a random burst of violence was about to occur.
Likewise, in a 2018 knife attack on a bullet train, a man killed one commuter and injured two others. In spite of this, shooting deaths are a rarity in Japan. However, high-profile knife killings are on the rise in recent years.  
Attacks That Inspire Others
Media reports add that the suspect found inspiration from the horrendous knife assault in August this year. After all, the young man responsible for the Tokyo knife attack intended to murder at least two people and seek the death penalty.   
Not to mention, the perpetrator is known to have adored the Joker villain from the Batman comics.  
In the 2019 hit movie The Joker, the main character, played by actor Joaquin Phoenix, attacks several men on a train after harassing him. This pivotal moment marks the beginning of The Joker's transformation into Batman's ultimate villain. 
As a consequence, perhaps we need to ask the obvious questions: Does media exposure influence acts of violence in young people? And how do we go about protecting ourselves in the midst of such events? What do you think?